The combination of dogs, babies and children can be challenging and sometimes stressful. As a parent and professional dog trainer I understand and I can help you create safe, harmonious relationships between your dog and your children.
I'm very proud to be Scotland's first, and currently only, licensed educator of the Dogs & Storks and Dogs & Toddlers programmes run by Family Paws Parent Education.
To book any of these services please contact me or call 07905 531858
---

IN HOME CONSULTATIONS (GLASGOW AREA)
Having a baby is a life changing experience for everyone including the family dog. Preparation in advance will decrease stress, increase success and help you avoid potential problems.

Things to consider include -
how is your dog likely to react to a wriggling, crying baby or a mobile toddler?

are there things that your dog does now that might be a problem with a new baby or exploring toddler - pulling on the lead, jumping up, sleeping on your bed etc?

is your dog anxious or nervous about new things?
is your dog happy to be separated from you?
can you tell when your dog is becoming stressed or worried?
These consultations offer positive, practical solutions to the challenges that can arise when dogs and children are in the mix.
PRICING
Dogs & Storks / Dogs & Toddlers Consultation (1.5 hrs approx) £100
---
SKYPE/TELEPHONE CONSULTATIONS
I am also able to offer Dogs & Storks and Dogs & Toddlers consultations via skype/telephone for those living outwith the Glasgow area. If you would benefit from face to face training I can also help you find a reputable, qualified, ethical trainer in your local area.

PRICING
Dogs & Storks / Dogs & Toddlers Skype Consultation (1 hr approx) £75

---
DOG SAFETY PRESENTATIONS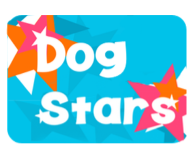 When most people think about dogs biting children they think of a strange, aggressive dog running up to their child in the park and attacking. But did you know that 77% of dog bites to children come from the family's own dog or a friend's dog? Teaching children to recognise when a dog should be left alone can prevent the vast majority of dog bites.
Fun, interactive presentations for nursery and primary school aged children teaching them how to be safe around dogs. The sessions teach them what to do if a dog approaches then, how they should approach a dog, what dogs are trying to tell us with their bodies, how to pet a dog etc. These presentations are available as private, in home consultations for you and your children or as group presentations for nurseries, schools, youth groups etc.

PRICING
Dog Stars (1 hr private in home consultation/private nurseries etc) £55
Charitable groups/Primary Schools - a limited number of free presentations are available. Please get in touch for further details