Did you know that the arrival of a new baby is one of the top three reasons a dog is surrendered for re-homing? Or that the vast majority of dog bites to children come from their own family pet?
Juggling dogs, babies and children can be challenging and sometimes stressful. As a parent and professional dog trainer I understand and can help you prepare for life with dogs & babies and help you create safe, harmonious relationships between your dog and your children.

I am the only trainer in Scotland with specific training on dog/child dynamics and the only trainer in the country licensed by Family Paws Parent Education to support families via the Dogs & Storks and Dogs & Toddlers programmes. If you need help with issues relating to dogs & children you can trust that you're in safe hands.

---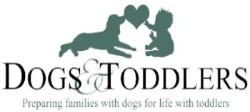 IN HOME CONSULTATIONS (GLASGOW AREA)
Having a baby is a life changing experience for everyone....including the family dog. Preparation in advance will decrease stress, increase success and help you avoid potential problems. Help your dog adjust to the huge change in lifestyle and family dynamic and tackle any issues that may need addressed before your baby arrives.
These consultations offer positive, practical solutions to the challenges that can arise when dogs and children are in the mix.
PRICING
Dogs & Storks / Dogs & Toddlers Consultation (1.5-2 hrs approx) £125


SKYPE/TELEPHONE CONSULTATIONS
I am also able to offer Dogs & Storks and Dogs & Toddlers consultations via skype/telephone for those living outwith the Glasgow area. If you would benefit from face to face training I can also help you find a reputable, qualified, ethical trainer in your local area.


PRICING
Dogs & Storks / Dogs & Toddlers Skype Consultation (1 hr approx) £70


ONLINE COURSES
A 6 week online course "Preparing Your Dog For Life With Your Baby" - consisting of 14 lessons with nearly 4 hours of content - is available at Tromplo.com
---
DOG SAFETY PRESENTATIONS
When most people think about dog bites they probably think of a strange, aggressive dog running up to their child in the park and attacking. But did you know that 77% of dog bites to children come from the family's own dog or a friend's dog? Teaching children how to appropriately interact with dogs can prevent the vast majority of dog bites.
These fun, interactive presentations for nursery and primary school aged children teach them how to be safe around dogs. They are available as private, in home consultations for you and your children or as group presentations for nurseries, schools, clubs & organisations etc.

PRICING
Dog Stars (1 hr private in home consultation/private nurseries etc) £70
Charitable groups/Primary Schools - a limited number of free presentations are available. Please get in touch for further details